Many people who often hear the term electronic and telecommunication engineering are closely related to various digital technology developments worldwide. No wonder we will find many people who learn these two things formally to master them well.
For example, electrical engineering, where electrical engineering, as the name suggests, studies electricity and applies it in everyday life.
So when someone studies electrical engineering formally, they will learn knowledge such as the concept of designing, developing, and producing various electrical and electronic devices. Apart from that, there are also other things to be learned, such as power plants and everything related.
The notion of the telecommunications technique itself is a method or way about a person's intelligence in conveying thoughts, messages, ideas, or opinions so that others can more easily understand them.
So the two disciplines are broadly different and cannot be compared because they study very different things. But still, they will always be related to digital technology. Currently, many universities provide study programs to study these two things formally.
Electronic Engineer Job Prospects
It can be said that studying the field of electrical engineering is a very appropriate thing to do in modern times like today. As we have noticed, all types of equipment around us are generally already electric or use electrical energy. Therefore, you can imagine an electrical engineer will be needed and over time.
Because, of course, dealing with electrical energy means that we are in a profession with a high level of risk. But what must always be remembered, of course, is that an electronic technician must study the field of science in-depth to understand it well. Here are some job opportunities for electrical technicians.
Government Employees
One of the jobs or professions that most people in Indonesia dream of is Government Employees. People rarely know that an electronic engineer can also have the opportunity to become a Government Employee.
For those of you who study these disciplines, you can register yourself to become a Government Employee in the field of energy and mineral resources. That way you can work according to your skills and get a decent salary
State-owned Enterprises
In Indonesia, many well-known State-Owned Enterprises absorb a lot of human resources, such as PT Telkom Indonesia and PT PLN. Both places have an excellent opportunity to work, especially for an electronic engineer.
Of course, working in State-Owned Enterprises has various advantages. For example, an excellent career path, high salary, and lots of insurance will be obtained by people who can work in State-Owned Enterprises.
Entrepreneur
Due to the intense competition in work and increasingly narrowing employment opportunities, becoming an entrepreneur is quite tempting. Meanwhile, the number of productive workers always increases every year, making many unemployed. Even though they have qualified abilities and qualifications, they cannot find jobs according to their needs.
Therefore, an electronic engineer can also choose another production alternative, which is to become an entrepreneur. Being a master of these disciplines, you can develop a business in electrical installations and start-up businesses.
Teacher
Everyone who studies the discipline of electronics can also have the opportunity to become a teacher, whether it's a teacher for those graduates of electronic and communication engineering or can be a teaching staff in schools such as teachers and lecturers at the University. At this time, the workforce who has expertise in this field is also substantial.
Systems Analyst
You can also try some professions that are still rarely chosen by others. By doing things like this, of course, you can increase your chances of success in getting a job, where you choose a job that few other people can master.
An example of a job like this is systems analysis, and systems analysts are responsible for system maintenance and development organization.
Project Engineer
There is also one very suitable job for an electronic engineering graduate to choose, namely Project Engineering. Project Engineering is tasked with developing and installing an existing electrical system on a project.
In addition, a project engineer also has the task of developing designs and managing the division of tasks to other workers and running the project according to the plan and budget. To be a good project engineer, one must have good management skills and technical knowledge.
Types of Professions That Suit Telecommunications Engineering Skills
One of the fields of study that students favor is telecommunications engineering; this cannot be separated from the attractiveness of the field of study that aims to support and improve communication systems, such as providing high-speed data transmission services.
The following are some of the professions that telecommunication engineers commonly choose.
Radio Mechanical Technician
One of the professions chosen by a telecommunication engineer is radio mechanic technician. The main task of a radio mechanic is to ensure that radio signal transmitting and receiving equipment usually runs; the salary is relatively large.
Radio Operator
The second option, a telecommunications engineer can choose a profession as a radio operator. The task of the radio operator is to transmit communications using radiotelephone equipment by government regulations.
Computer System Analysis
Another choice of the telecommunications engineering profession is to become a computer systems analyst. The main task of a computer analyst is to improve computer information systems in a company or organization.
Programmer
The following telecommunications technique that will be very promising in the future is becoming a computer programmer. The main task of a computer programmer is to create, develop, engineer, and test code, forms, and scripts.
Computer Network Architect
The last choice of the telecommunications engineering profession is to become a computer network architect. A computer network architect will be in charge of creating designs and implementing computer and information networks. Electronics and telecommunication engineering do have a wide choice of their respective professions.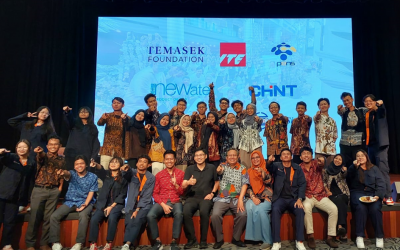 Program pertukaran pelajar antara Politeknik Elektronika Negeri Surabaya (PENS) dan Institute of Technical Education (ITE) Singapura merupakan inisiatif yang luar biasa dalam memperluas pengetahuan dan pemahaman siswa tentang berbagai aspek keberlanjutan dan...